It is with great pleasure that I get to express my appreciation for the staff of Morada Senior Living. When I came here I felt lonely. It was people like Jan that made me feel at home. We are like one big family. The staff looks after us as though we are their kin to them and they look after our welfare.
Location, location, location – inside and out. My second floor treehouse apartment – six rooms spare for my home furnishings. Two generous bay windows in living room and dining room give wide views in my kingdom of the birds. A large walk-in closet with shelves provide each of two bedrooms clutter free comfort. Two bathrooms convenient to rooms, sink counter has cabinets and drawers, microwave and refrigerator for my convenience.
Formal dining room features large windows across one wall and 2 side walls. Tables fold out, and chairs with front rollers, thick white table cloths, large cutlery and dishes appropriate for restaurant food and drinks. I'd say star ratings. I even took a few pictures to show my family and friends – only a little bragging so they know I'm properly happy.
All of this and staff gracious and happy make for happy and friendly residents. Services  and entertainment varied and fun. My family brag to other families out of town. I'm always pleased to welcome them. My comfort and peace is what I need now.
-Arlene
As a native Texan who has spent majority of their life in the north Texas area, the Morada facility seems to be a perfect fit into the life we have always known. You can be sure of the best care seen to by people who truly care. The prompt attention to needs, the food and cleanliness are all truly appreciated by all the people who chose to live here!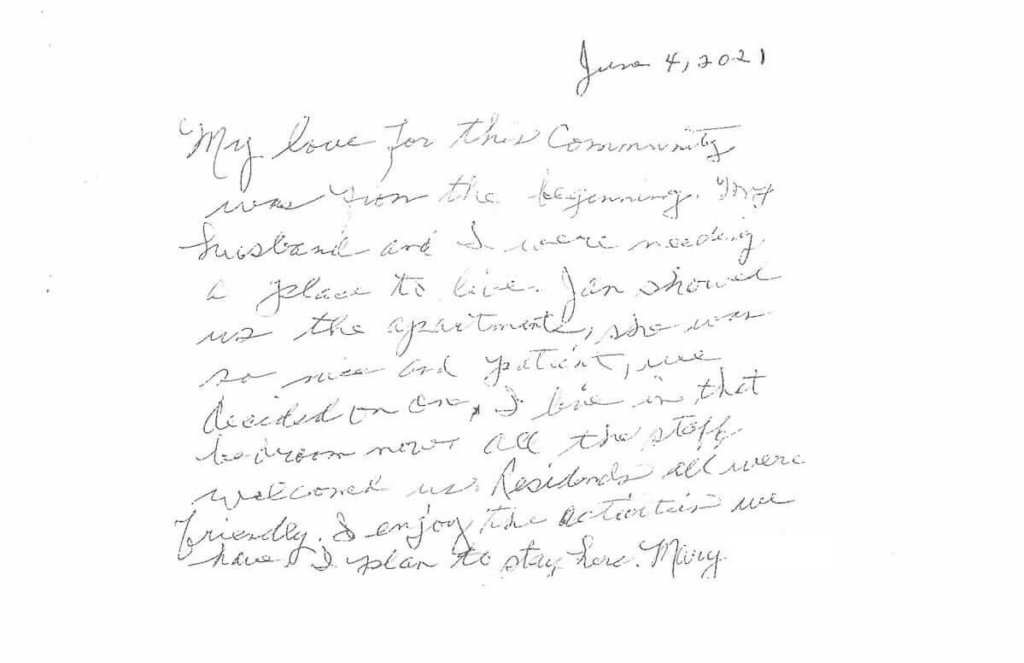 My love for this community was from the beginning. My husband and I were needing a place to live. Jan showed us the apartments, she was so nice and patient, we decided on one. I live in that bedroom now. All the staff welcomed us. Residents all were friendly. I enjoy the activities we have. I plan to stay here.
-Mary
The staff provides activities that are beneficial to the welfare of the residents and keep us aware of upcoming events. Holidays are made special, thanks to the staff.
-Betty