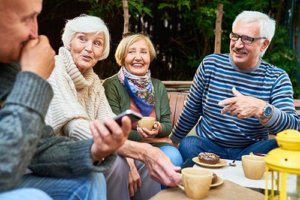 Discover Morada for yourself and experience why all senior living communities are not created equal. Take Morada North Richland Hills' senior lifestyle programs, for example. Morada communities are carefully designed with special programs and features that are intended to help empower more enriched, stress-free living.
With that, you can opt for some quiet relaxation, or stay active and involved with regularly scheduled social events and activities. Use our complimentary, scheduled transportation to frequent your favorite restaurants and area attractions. And have more time to do it with housekeeping and home maintenance forever removed from your "to-do" list!
Our community's lifestyle programs also include authentic, Texas-style dining, senior-focused health and fitness and friendly, concierge service. Together, it's everything you or your loved one need to begin a fun and fulfilling new chapter of life right here at Morada North Richland Hills.
Our senior lifestyle programs include:
Please contact one of our Senior Lifestyle Counselors at 817-859-6121 today to schedule a tour and learn more!